THE LUXURY HOTEL
Kumbhalgarh
Fort Resort

Kumbhalgarh Fort Resort is a Best Resort in Kumbhalgarh, Rajasthan. It is one of the most popular resort in kumbhalgarh which attracts thousands of tourists every year. we provides you with comfortable and stylish accomodation to ensure that your stay at hotel remains pleasent.
We welcomes you and happily serve an array of customers, including busy businessmen, work-loaded employers seeking some respite, happy families, couples discovering each other and celebration seekers. It is a Luxury Resort in Kumbhalgarh with best sceneric views and proper facilities. Given that each of our clients varies in moods and needs, our team strives to offer the best service that can make them smile.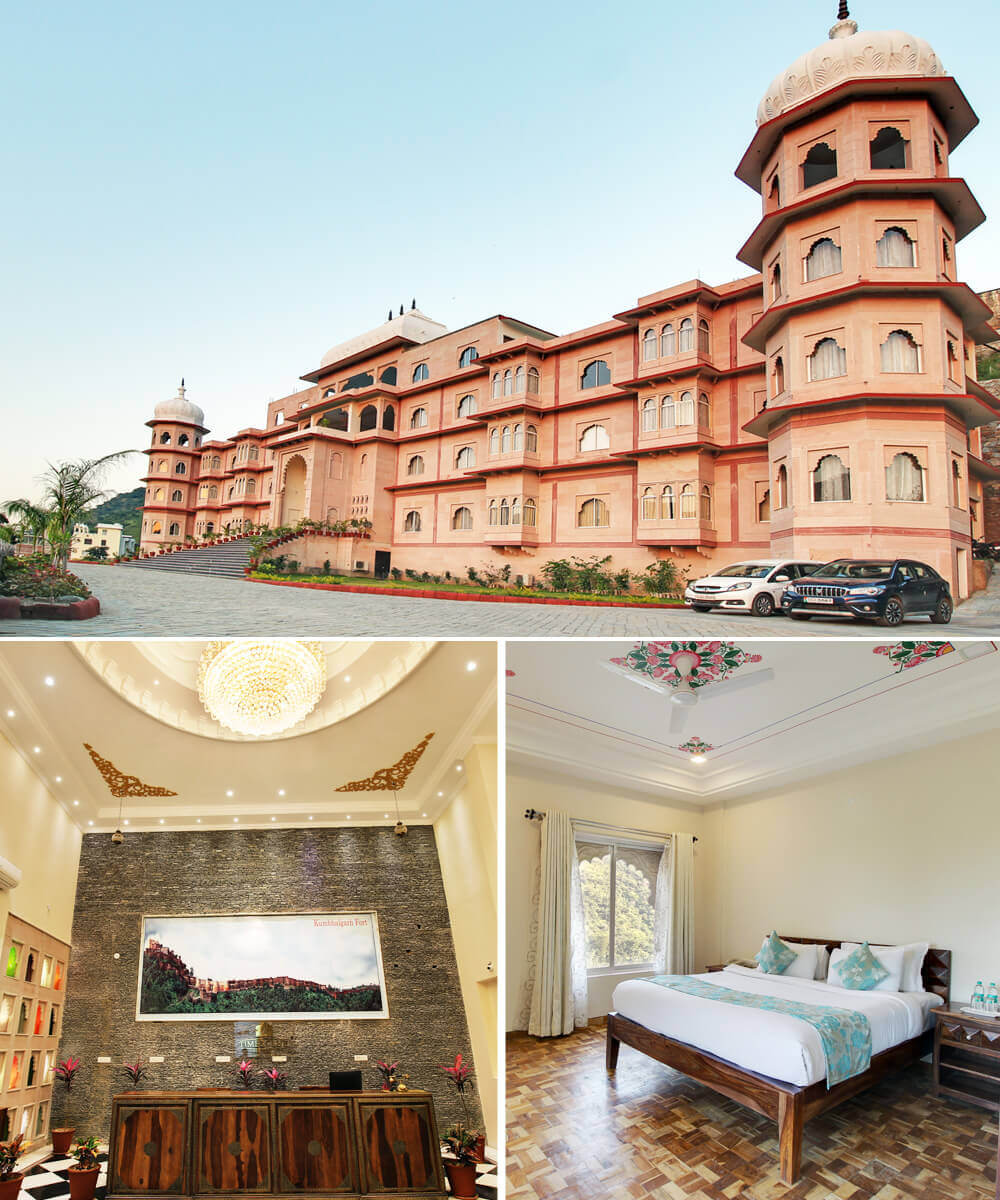 Book your room
Enjoy the comfort

Book your room right now and start your amazing adventure full of discoveries and experiences with Kumbhalgarh Fort Resort.
Best Resort in Kumbhalgarh
Unforgettable Experience

Testimonials
What Our Clients Say About Us

Very Good place to stay and enjoy the clamness of nature
Very good property with good and clean spacious rooms, beautiful jacuzi in the rooms.....infinity pool with clean water....amazing iron suspension bridge to go for swimming pool....food was only have little issue...less varity and mostly matched for gujrati taste....suggestion to keep it more rajasthani as people are coming to enjoy rajasthani cuisines....childran enjoyed horse riding and cultural playes at resort.....

Superb View From the Property and Resort is Exellent for the couple best Room arranged by property and Hotel Service is too Good..

From seeing sunrise from our room window to saying bye to sun from rooftop swimming pool. Everything was too good. We enjoyed alot and made many unforgettable memories here. Thank you for the best hospitality.

Nice rooms and luxurious. Beautiful place. Very piece full. If you have time you and your family can enjoy a lot. I appreciate their welcome drinks and nice behavior of staff . Must visit
Resort In Kumbhalgarh Breather In This Breath-taking Wilderness
Kumbhalgarh is a quiet small town located on the western side of Aravali Hill, eighty-four kilometres away from Udaipur. In 2013 Kumbhalgarh Fort, with five other fortresses in Rajasthan, was declared a UNESCO World Heritage Site.
This heavenly town offers many daring adventures that will enthral and fascinate you. Kumbhalgarh Fort, built by Rana Kumbha in the 15th Century, consists of the second biggest wall (36 km) in the world after the Great Wall of China, from where you can behold the wilderness of the area.
Enjoy Exquisite light and sound show
Kumbhalgarh Fort Resort is the Best Resort in Kumbhalgarh, where we accommodate thousands of travellers with elegance and comfort. We are committed to serving our patrons to give them a breather in this breathtaking wilderness.
Our guests are mesmerized by the exquisite light and sound show that occurs in the evening depicting the heroic saga of Kumbhalgarh. The Resort in Kumbhalgarh offers the best picturesque panorama; the sight of the valley is truly breathtaking. It is a Luxury Resort in Kumbhalgarh with non-smoking, family rooms and suites. The 810 sq ft Maharaja suite gives a majestic view of the lake and valley.
Go for Jungle Safari
Inside the fort, there is a 500 years old Shiva temple (Nelkanth Mahadev Temple); the architecture of this temple is exquisite and astounding, a right place for soulful meditation among the boondocks. We arrange for a jungle safari at Kumbhalgarh wildlife sanctuary.
You can roam in a jeep in the 577 square kilometre hill dense forest. Flanked by Aravali Hill, this sanctuary is home to rare flora and fauna. It takes around four hours to traverse the fifteen-kilometre-long trail. After the safari, when you come back to Kumbhalgarh Fort Resort with Swimming Pool, you can enjoy a relaxing swim. The Fort Resort is a perfect place to enjoy your trip to Kumbhalgarh. We offer all modern amenities, such as free Wi-Fi and indoor and outdoor games, to make your most pleasurable and memorable.